About PaperAnimals.io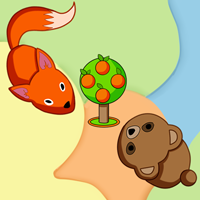 Description:
PaperAnimals.io is an exciting multiplayer online game where players take on the role of cute paper animals and battle against each other in a vibrant and colorful paper world.
Gameplay
Choose your character: Players can select from a variety of adorable paper animal characters such as cats, dogs, rabbits, and more. Each character has unique abilities and attributes that can be upgraded and customized.
Explore the world: Dive into a mesmerizing paper world filled with lush forests, whimsical meadows, and charming villages. Discover hidden treasures and secrets as you roam around the beautifully crafted environments.
Battle against others: Engage in thrilling multiplayer battles against players from all around the world. Use your character's abilities strategically to outsmart and defeat your opponents. Work together with your team to dominate the leaderboard and become the ultimate champion.
Features
Customization:
Unlock skins: Earn coins and unlock a wide range of vibrant and unique skins to personalize your paper animal. Stand out from the crowd and show off your style.
Upgrade abilities: Level up your character and improve their abilities to gain an edge in battles. Enhance your speed, strength, and special attacks to become a formidable force on the battlefield.
Communication:
In-game chat: Communicate and strategize with your teammates using the built-in chat feature. Coordinate your attacks and plan the perfect strategies to defeat your opponents.
Team play: Join forces with your friends or play with random players to form powerful teams. Work together to conquer challenging missions and win epic battles.
Compete: Participate in thrilling tournaments and climb the ranks. Prove your skills and become the top-ranked player in the PaperAnimals.io world.
Jump into the adorable world of PaperAnimals.io and experience an exciting multiplayer adventure like never before. Show off your skills, customize your character, and battle your way to victory amidst a beautifully crafted paper utopia.
Controlling your character or object within PaperAnimals io typically involves using your keyboard (e.g., WASD for movement) and your mouse (for aiming and executing actions). You can also explore additional control buttons and settings within the in-game menu.