About Stug.io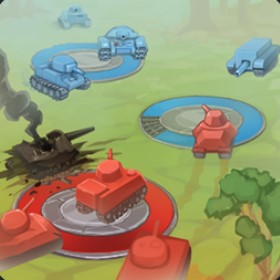 Description:
Stug.io is an exciting multiplayer game that combines strategy, skill, and teamwork. In this game, players control a tank and battle against each other in a fast-paced arena. The objective is to eliminate as many opponents as possible and dominate the leaderboard.
Features:
Intense Tank Battles: Engage in thrilling tank battles with players from around the world. Use your strategic skills to outmaneuver opponents and destroy their tanks to claim victory.
Team-based Gameplay: Join forces with other players and form a team to dominate the battlefield. Coordination and communication are key to achieving victory.
Upgrade and Customize: Collect power-ups and currency during battles to upgrade your tank's weapons, armor, and abilities. Customize your tank's appearance to stand out among competitors.
Leaderboards and Rankings: Compete against other players to climb up the global rankings. Show off your skills and aim to reach the top position.
Real-Time Action: Enjoy fast-paced and action-packed gameplay. React quickly to enemy attacks, dodge projectiles, and aim precisely to secure victories.
Controls:
WASD: Move the tank
Mouse: Aim and shoot
Spacebar: Activate special ability
Experience the adrenaline-pumping battles of Stug.io and prove your tank mastery in this online multiplayer arena. Gather your friends, form a powerful team, and dominate the battlefield!
Controlling your character or object within Stug io typically involves using your keyboard (e.g., WASD for movement) and your mouse (for aiming and executing actions). You can also explore additional control buttons and settings within the in-game menu.